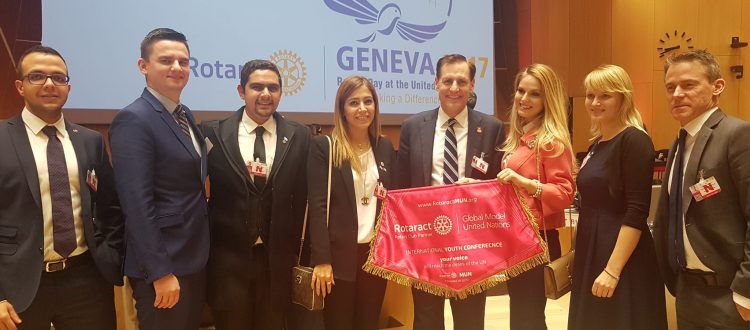 RotaractMUN 2018 in Lithuania, India and United States of America
Rotaract Global Model United Nations 2018 is spread all over the world in our attempt to build a global youth decision making body that is able to respond to a wide range of problems that our planet is facing today and we will bring their voice on the desk of the United Nations, Rotary International, World Peace Forum and Toronto World Leadership Forum in order to build a future that the new generation wants: more just and more peaceful all around the world. Also, we are focusing on the Sustainable Development Goals and we will come up with strong projects to get each goal closer to it's target.
… our hosts are Rotaract Club of DTU in India and Rotaract Club of Kaunas Fortress in Lithuania …

Rotaract Global ModelUN 2018 will be hosted by Rotaract Club of Kaunas Fortress in the three capital cities of Lithuania: Vilnius, Kaunas and Trakai.
After the special edition in 2016 – New York Change the World – Rotaract Club of DTU will organize a special edition of RotaractMUN 2018 in New Delhi, India.
After Baia Mare TEAM, London Westminster, Belgrade, Sofia Serdika and Beirut Sahel Metn, the host of the 2018 edition is Rotaract Club of Kaunas Fortress.
The announcement done by Justin Hadjilambris, President of Rotaract Europe – ERIC European Rotaract Information Centre at Rotary Day at the United Nations in Geneva.
Organizer's competence is already approved by Lithuanian Prime Minister Saulius Skvernelis, Foreign Affairs Minister Linas Linkevičius and Vilnius City Mayor Remigijus Šimašius together with Rotary Lithuania District 1462 governor Rolandas Statulevičius – then they gave as full support for snowy winter REM 2018 Vilnius.
Rotaract District Organization and Rotaract Club of DTU Regency, RID 3011 are the Proud Organizers of the RGMUN 2018 Special Edition
We are enthusiastic to provide you with a platform to debate International Affairs with the Global Community. We aim to Change The World, Together under one roof.
Details will be out soon. Hope to see you all in Delhi, India for this International Mega-Event.
Website : http://dtu2018special.rotaractmun.org